Biosafety protocols for Machu Picchu reopening
Condor Travel are preparing to receive groups under a strict Bio Security protocol that regulates social distancing, hygiene and disinfection of public spaces frequently visited by tourist groups.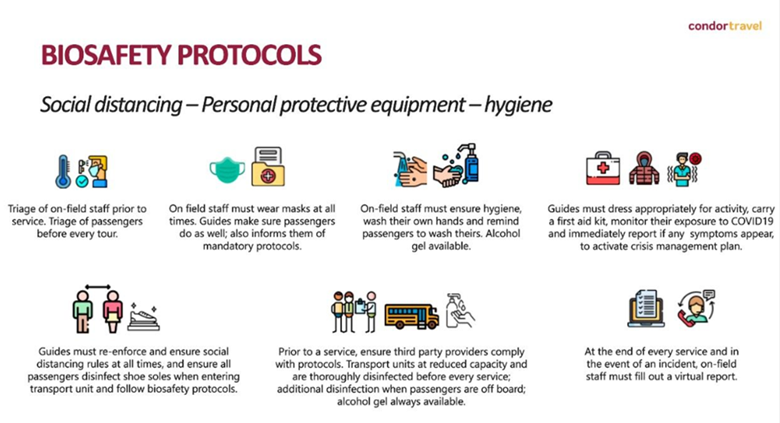 The following measures are included in Condor Travel's protocol:
Field staff:
• Before being able to return to work, field staff will have to undergo a COVID19 test.
• Before each service, field staff will be medically assessed for any risk of infection.
• Hygiene: Constant hand-washing is mandatory for staff, passengers will be required to do this too.
• Condor's field staff will carry a personal first-aid kit at all times that includes mask, gloves and thermometers among other things.
• Condor's field staff will always wear masks and will make sure that every member in the group wears them too.
• Condor's field staff will wear latex gloves at all-times.
Social distancing:
• Condor's field staff will verify that a 1 meter minimum-distance is kept between each person.
• Group size will be reduced: without audio-guides Condor will operate a maximum of 6 people per group, with audio-guides we will operate a maximum of 20 people per group.
Transportation:
• Before starting and after completing each service, vehicles will be entirely disinfected, following the bio security protocols given by the Health Ministry in Peru.
• In every transportation unit there will be masks, hand sanitiser and a first-aid kits with oxygen masks, at passengers' disposal.
• Vehicles will be operating at less than half of their carrying capacity. The maximum capacities permitted in Condor's vehicles will be the following:
Car - 2
Minivan - 2
Short Van - 7
Long Van 9
Mini Bus (30-34 Seats) - 16
Bus (44 Seats) - 21
Suppliers and strategic partners:
The Peruvian Government has established a health and safety protocol mandatory for all hotels and restaurants. Establishments will not be allowed to function if they do not comply with these measures.
Condor's Customer Service Area will also be monitoring their partners' adherence to these protocols and demanding documents verifying their compliance.