Incheon International Airport opens new terminal in time for Winter Olympics
90 international airlines fly direct into Korea. Most international flights land into the Award winning Incheon International Airport, which will open its second Terminal in January 2018 in time to welcome visitors from around the world to the Pyeongchang Winter Olympic and Paralympic Games.
The new terminal will feature 56 passenger aprons and 21 cargo aprons when completed. The second stage, which is an expansion phase to be completed by 2025, will further increase the terminal size and passenger capacity.
There are also many regional international airports across the peninsular bringing in overseas visitors from the Far East region.
Korea is an excellent hub within Asia and for international arrivals and Seoul is promoted as a stopover destination to rival Singapore or Hong Kong, with excellent connectivity in the region.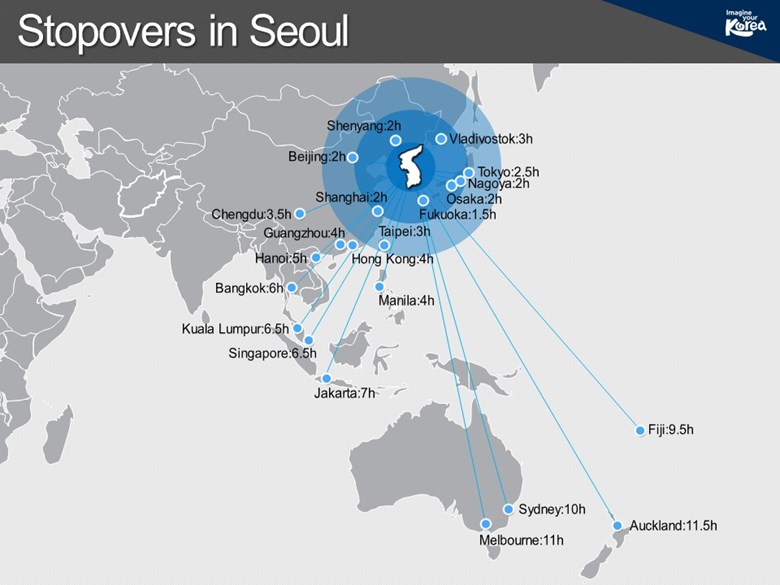 There are 3 direct flights, daily, from London Heathrow: BA and Korean national carriers: Asiana and Korean Air. Most other major national carriers also run multiple flights per week from their respective hubs (eg Frankfurt, Lufthansa, Paris, Air France etc), as well as the Korean carriers.
Finnair offers one of the shortest indirect routes (via Helsinki) taking only a fraction longer than the 10.5 hours from the UK direct. The flight time is, incidentally, shorter than a flight to West Coast America, and the same time as from the UK to Las Vegas.