Korea Hotels-Safe Event Solutions
Korea's hotels are open and already running safe and socially distanced events.
A group of Korea's international hotels presented their cleaning & safety protocols, capacity updates, and news, during a webinar on 28th July 2019.
Hyatt Hotels & Resorts, Wyndham Hotels & Resorts and Lotte Hotels & Resorts, joined the KoreaMICE Bureau and Korean Air to update event professionals on the latest news from the destination.
Korean Air covered their measures for safer air passage, still ensuring their great level of service and traditional welcome on board.
Hyatt Hotels gave a case study on how they ran a socially distanced gala dinner at the Grand Hyatt Seoul. They also presented their new Grand Hyatt, Jeju (pictured top, this is the largest Grand Hyatt outside North America, superseding the Grand Hyatt Incheon, who currently hold that accolade until the new Jeju property opens this autumn).
Wyndham Hotels and Resorts, who operate over 40 hotels across Korea, covered some of their new hotels with a specific focus on business class and meetings and events, such as the Ramada Plaza Suwon, close to UNESCO heritage sites and the new Suwon Convention Center, 30 mins from Seoul.
Lotte, Korea's own international brand, gave an update on their main Downtown Seoul Hotel, with extensive meeting and events paces, located at the very heart of the diplomatic area. There was also an overview on their luxury brand Signiel, with one in Seoul, and their newest the Signiel in Busan. Lotte pride themselves in delivering the ultimate luxury service across their brands, and share several Michelin starred restaurants between the Seoul and Busan properties.  
All chains explained that many offer outdoor event space, facilitating a flourish of flare and fresh air - much appreciated in the 'new normal' for safer events.
Watch the full webinar on demand here: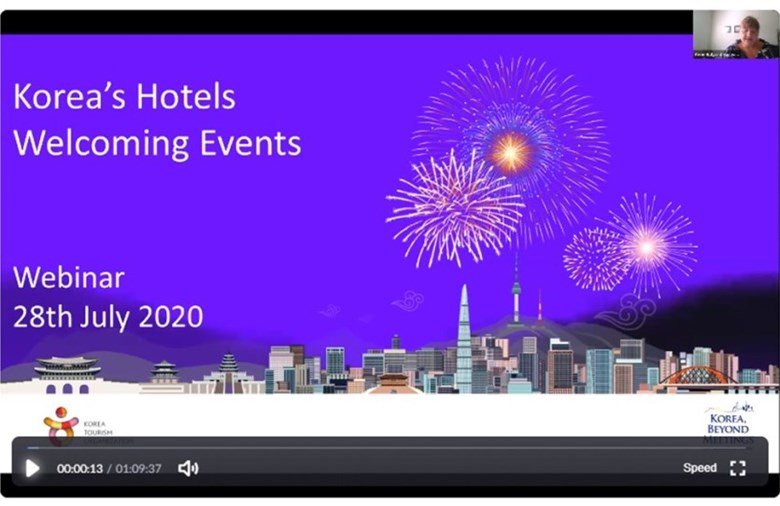 To receive more information about the ongoing support from the KoreaMICE Bureau, or to obtain details about any of the partners, please contact us.