Discover Riga Courtesy of GOAL Events
DMC Goal Events is offering a complimentary 2 night stay in Riga, including flights in 2019 for event professionals who place an event with them in the Baltics*
Goal Events know that event professionals work incredibly hard to deliver successful events, and as a reward they are offering the chance for you to have a well earned rest. Complimentary flights, transfers, 2 nights accommodation, 2 activities and meals for 2 people, provide you an opportunity  to relax, unwind and discover Riga at your own pace! 
Riga, Tallinn and Vilnius are gorgeous capital cities with a lot of potential for all types of business events. With Goal Events' ability to add flare to your events in the Baltics, your groups will find the region has a lot to offer that extra Wow! Read more about Latvia, Estonia and Lithuania here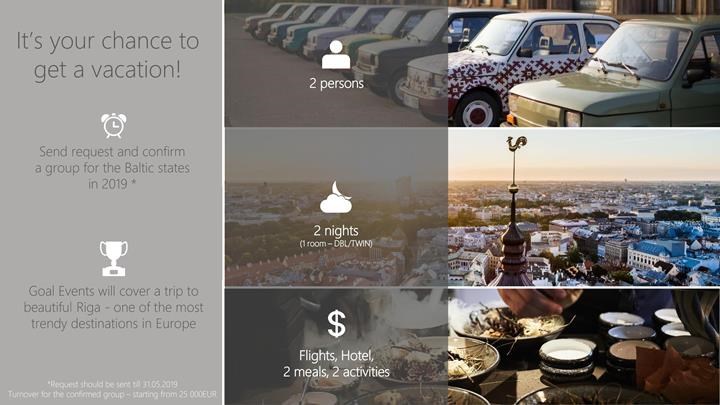 *Ts & Cs apply.
- The value of the group should be a minimum turnover of €25,000
- Take place between now and the end of 2019
- The event request should be placed by 31 May 2019, and be confirmed with Goal Events.