Trafo Factory Food Concept
Trafo Baden is a unique event space, with onsite accommodation, near Zurich, and is leading the way in contemporary event venues. They have recently simplified their onsite catering concept, without losing their excellent culinary heritage and local sourcing values.
Until only a decade ago, catering was often an accompanying element to a corporate event or an international conference. Today event organisers have had to rethink the concept of catering and to respect and include a range of healthier offerings, as well as servicing a range of dietary requirements. Trafo Baden has already made that transition and has launched a new catering philosophy: the 'Trafo Factory Food Concept'.
Cook it well, present it well
Referencing the history of the industrial halls, the term 'Trafo factory food' was created with a vision to be as innovative as a trendy restaurant. Not just health and nutrition are important, presentation and decoration is also key, with food and mood intrinsically linked. Conferences are not just about education and training is relevant, real pauses are required, to relax, to network, and to get good nutrition too.
The Trafo kitchen team employs 'back-to-the-roots': healthy, fresh, sustainable and regional values, and equally considers the topic of food waste. In consultation with the client, we aim to ensure that guests eat 'just right, balanced, and not too much, nor too fast'.

Don't just meet expectations. Exceed them!
Those new requirements fit well with the philosophy of Trafo, CEO Reto Leder, who comments: "I have experienced many times at events, food often triggers the first and the very last memory impulse. The success or failure of an event depends directly on the selected food and drinks and, of course, on how we present it.

With the new 'Trafo Factory Food Concept', Trafo Baden takes food flexibility to a whole new level with one purpose in mind: be attractive in presentation, transparent in price and flexible in variety of food options! 'Customer first' may be a much-used term, however, at Trafo it's much more than that. It's an attitude."
Transparent packages
The new packages offered are divided into four categories: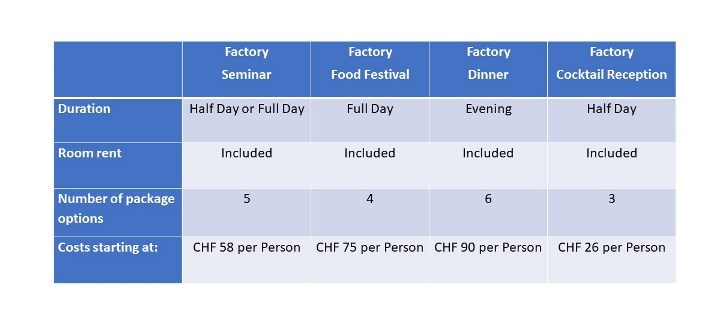 Trafo Baden Event Location, is well located just 30 minutes from Zurich Airport, offering large scale dry hire urban, and purpose built event spaces, a 3* superior hotel onsite, and a 4* boutique opposite. For more information about the venue and its hotels, please email:trafo@moulden-marketing.co.uk