Amazing Event spaces & Hybrid Studio
Hybrid Event HUB @ Hannover Exhibition & Conference Center / Deutsche Messe
New IN-HOUSE venues, services & solutions for digital-hybrid-Iive events!
FROM HANOVER TO THE WORLD… H'Up is a multifunctional event venue with a built-in yet adaptable streaming studio. The perfect ready to go setting for live, digital and analogue events | Read More Here


"Hannover Exhibition & Conference Center" (run by Deutsche Messe), a first class venue for all types of event. Congresses, Exhibitions, sport & music events and public festivals – Hannover's qualities as a host are legendary. With a unique combination of open-air sites, conference rooms and exhibition space, the 1,000,000 sqm (100 hectare) venue is suitable for small and mega events alike offering: 392,453 sqm of indoor space, 58,000 sqm of open-air space, 24 exhibition halls, 8 pavilions and 43 dedicated conference rooms. Plus 10 km of roads within the entire outdoor area (unique for the development of the 5G campus)!

Flexible, "quick-change" rooms are excellent for any event format. Divisible into four separate "HOT SPOT-sites" each has:
- their own entrances
- offices, meeting & conference rooms
- open-air space
- restaurants, bistros
- parking facilities & public transport links (just 30 mins from the airport)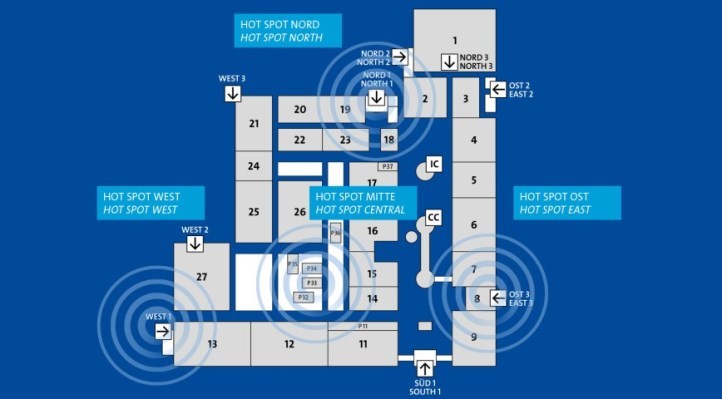 Benefit from the superb services of Hannover Exhibition & Conference Center by Deutsche Messe
The combination of flexible space is unique in the world: you'll only find it in Hannover. And it doesn't stop there, did you know they also offer the following services:
• Their own plant nursery from which you can hire a range of flora 
• Their own catering services
• On site workshop for any type of structure/build
• Superb tech team
Not only do you receive up to date services and infrastructure you also have the backing of:
• The know-how and experience of Deutsche Messe's own event organisation
• Additional services in the field of press, marketing, sales etc. – if required
• Excellent links with all the world's growth regions
• Deutsche Messe's worldwide business network 
...and a lot more - read more here
Events held at Hannover Exhibition & Conference Center benefit from great accessibility, superb infrastructure, and extensive services. There are plenty of hotels in a range of categories to suit all budgets within easy access of the venue, including x2 4* hotels within a 5 minute walk, and access into the city centre is just 18 mins by tram.
Hannover itself is a central European Hub with excellent Access by air, train, and road, with both an underground and mainline train* station at the Hannover Exhibition & Conference Center. To learn about international access please click here
Why Hannover at a Glance
Hannover is a young, open and culturally diverse city with more than 180 nationalities, and demonstrates a lead in science and innovation.

- 4 universities, plus the university of applied science
- renowned private academies 
- 47,000 students
- Outstanding in the field of medicine 
- A lead in healthcare
- World-renowned institutions
- Transfer of knowledge and technology between research and the economy
- Support for innovation and incubator startups 
Hannover is also Germany's most sustainable city (awarded 2017), through the continuous commitment of the state capital.
Hannover Marketing und Tourismus GmbH (HMTG) provides support to help plan your social programme after the meetings. With a Hotel and Private Room Reservation Service, the City Trip Team and Tourist Information, HMTG also offers services which help you plan your journey to and stay in Hannover.
For further information please call +44 1628 532020 or email deutschemesse@moulden-marketing.co.uk
(All images ©Deutsche Messe)
*The mainline train station is opened for larger events