Educational to Riga, Latvia
19th - 21st July 2019
8 UK event professionals enjoyed Riga, Latvia. 
Moulden Marketing's Katie, alongside our partner DMC, GOAL Events welcomed eight UK event professionals in Riga, Latvia for a two-night educational in July.
Guests took advantage of the excellent flight timings from London Gatwick which perfectly lend themselves to a 2-night European incentive to explore the Latvian Capital and its truly beautiful surroundings.
There is currently two flights a day flying Gatwick to Riga;
09:25 → 14:05 Air Baltic652 LGW-RIX
17:25 → 22:05 Air Baltic654 LGW-RIX
And for your return from Riga;
07:50 → 08:40 Air Baltic 651 RIX-LGW
15:50 → 16:40 Air Baltic 653 RIX-LGW
Friday - Arrival Day 
Upon arrival, guests were greeted by a fleet of GAZ Volga's (beautifully maintained classic cars of the Soviet Union), and chauffeured 30 minutes to Jūrmala beach, a stunning midsection of Latvia's 530 km long coastline.  Guests enjoyed lunch at Restaurant 36th Line; a restaurant sat directly on Jūrmala beach itself, also offering a separate venue; their privately owned marquee, which can be extended and adjusted dependant on your group size.
A short transfer back to Riga allowed the group to check-in at The Radisson Blu Elizabete, one of four Radisson's in the city and highly recommended for incentive groups and meetings up to 250pax.   After a short break,  dinner then took us to the 26th floor Skyline bar of Radisson Blu Latvija,  see header of this page for sunset view from the Skyline Bar. The Radisson Blu Latvija is just a short stroll from the Elizabete offering a great option for larger groups and conferences.  The Latvija is the biggest Radisson in the city, offering over 570 guest bedrooms and 15 meeting rooms able to accommodate up to 2500 delegates at once.

Saturday 
The Saturday saw us explore more of the stunning countryside surrounding Riga, interspersed by a couple of high-adrenaline activities;

- Learning to fly at the Aerodium, Sigulda, An outdoor vertical wind tunnel surrounded by Latvia's forest and woodland.

 - Exhilarating ride at Sigulda Bobsleigh & Skeleton Track; an activity suitable all year round reaching speeds of 85 km/h in Summer or 125 km/h in icy Winter conditions.
The next surprise, at a beautiful cove on the edge of the River Gauja, was a pre-lunch aperitif - an introduction to a local favourite, Birch Sap and its many forms, from a refreshing soft drink (associated with good health) through to a sparkling wine, perfect as an alternative reception drink. 
Lunch was hosted on the River Gauja on a custom built restaurant raft with an exquisite 4-course lunch prepared in front of us by the chef from Restaurant Garage, Riga.
The serene and beautifully peaceful lunch was soon a distant memory…..  The raft was flagged down and ushered ashore by three 'Officers of the Soviet Union'.   After a short interrogation two members of the group were led away to a traditional Soviet police car and escorted to a secret soviet bunker, 9 meters underground and built in the 1980's to protect the soviet political elite in case of a nuclear attack during the cold war.   The 213,000sq/ft hideout was completely self-sustainable and could support 250 people for up to four months!   Following an initiation in to the Soviet Military, the group experienced an interactive tour of the bunker, followed by an opportunity to let their hair down in the 'soldier's social room'…. Vodka and pickled herrings all round, then!
After some free time in Riga, we met for dinner at Restaurant Garage. A unique restaurant with a fresh and current menu for groups from 10-100 people. Those who could still keep their eyes open enjoyed a sample of Riga's nightlife; an abundance of boutique cocktail bars, live music venues and outdoor terraces. 

Sunday 
Sunday was tailored towards the city centre of Riga.   Site visits of Hanzas Perons; a converted railway & cargo station venue with possibilities of auto launches or events up to 2100 standing, and the Atta Centre; Riga's new Conference Centre (opening January 2020) provided a great insight in to the city's growing suitability for larger groups.   
A visit to Riga Central Market was next.   A permanent hub of activity and one of the most historic landmarks in Riga, we enjoyed a guided tour and speciality tasting with local chef, Artūrs Trinkuns who then accompanied us back to his restaurant, Restaurant 3 Chefs for lunch; an extraordinary 'alternative Tapas' experience; a great ice breaker for groups with the presentation of the tapas taking centre stage and creating a fantastic buzz in the room!
The restaurant has two upstairs rooms available for private hire with the largest able to take groups of up to 90 for a seated dinner, whilst the smaller room offers intimate surroundings for interactive cookery classes and demonstrations - ideal for groups up to 35pax.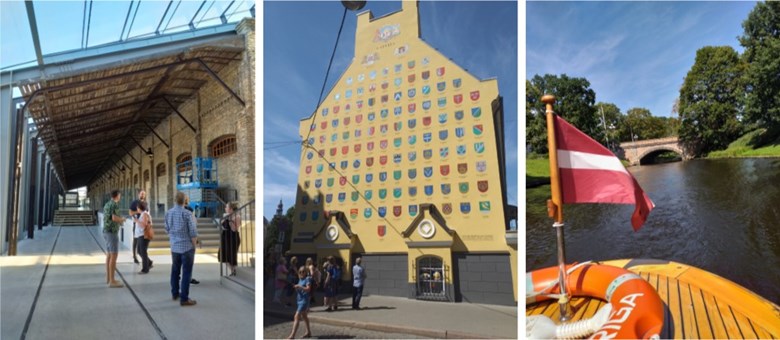 A few comments from those who attended...
The trip was filled 'with delightful surprises and well timed cameos.' 
'As we flew into Riga and saw flat, flat landscape I was a little dismayed that it
may not deliver much excitement - how wrong was that thought! The city was far cleaner, greener, friendlier than I expected'
'The programme ran like clock-work, was well thought out and professionally executed to the finest detail. Topping it all was the Passion, along with the Pride and Positiveness of all the suppliers and enablers that we met.'
'Fabulous trip - each element of the trip was worthwhile doing and seeing - just wish we were there longer to experience more :) '
'Overall extremely pleased with the familiarisation trip, the destination really did exceed my expectations and I will be telling everyone that I see :-)'
Contact GOAL Events to discuss your next event in The Baltics - goal@moulden-marketing.co.uk